Button Down Shirt – Ralph Lauren (SOLD OUT – Similar here) // Joggers – Lou & Grey // Cardigan – Anthropologie (SOLD OUT) // Loafers – Coach Outlet // Bag – Louis Vuitton
Printed Top – Ann Taylor // Wide Leg Jeans – Ann Taylor // Slingback Pumps – Sarah Flint // Faux Leather Jacket – BlankNYC // Bag – Chloe (Get $50 off Sarah Flint Shoes with code – SARAHFLINT-BASUCHI)
White T Shirt – Everlane // Black Straight Leg Jeans – Levis // Long Cardigan – H&M // Espadrilles – Castaner // Bag – Jacquemus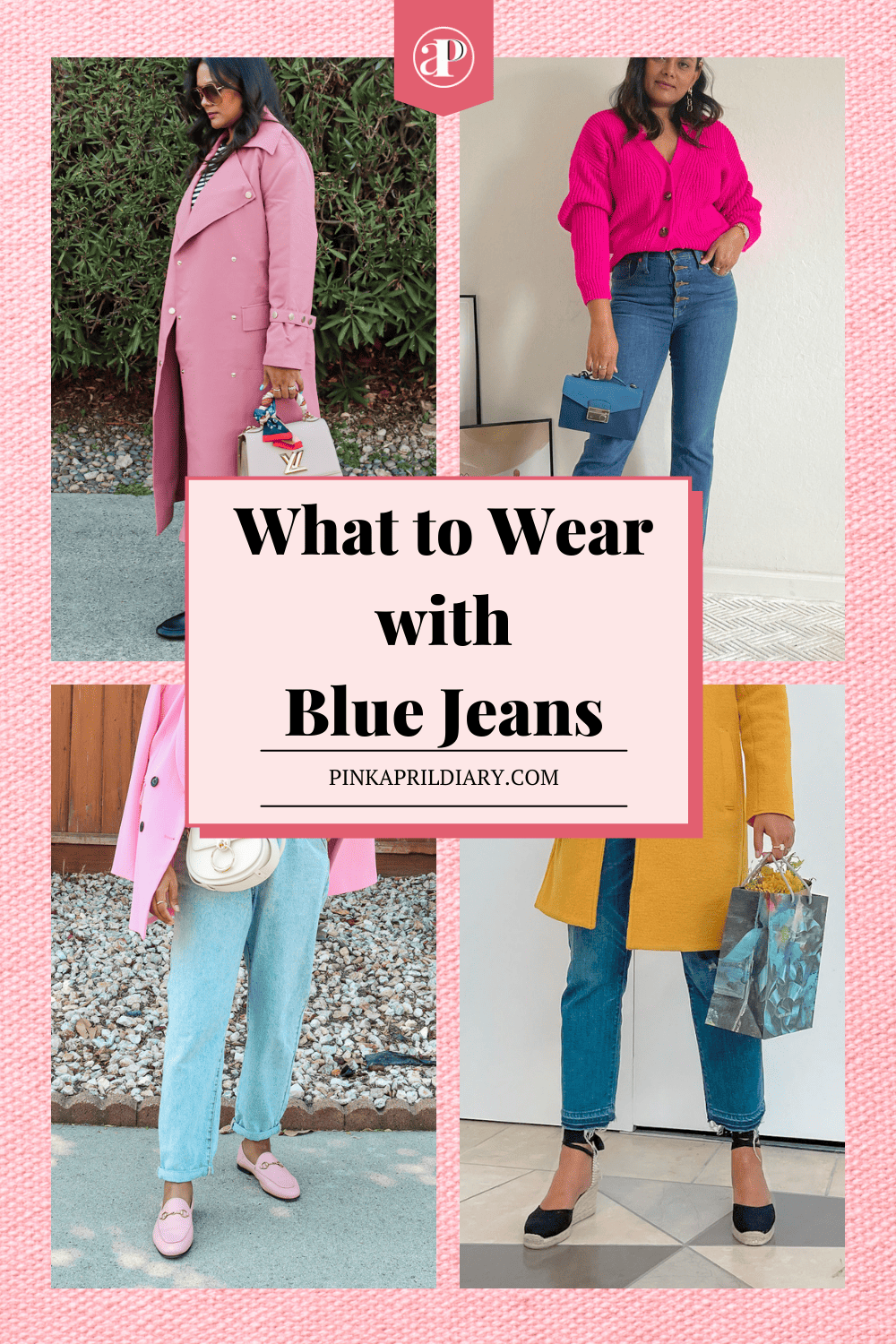 In this guide, I am sharing chic pieces that will help you look effortlessly stylish and chic in a blue jeans this spring and many more springs to come as well. As a woman in my 30s, I really don't have time be investing in a lot of trends which would need much more time to style and find one that works for me.
Instead, I want to have pieces in my wardrobe that are timeless and I can pull it out and wear it year after year without feeling outdated. And if I have to upgrade a piece, I can easily find a new style in the similar style and keep wearing.
Maxi Skirt – Boden // White Button Down Shirt – Macys (Sold Out – Similar here) // Pink Blazer Cece (Sold Out – Similar here) // Belt – B – Low The Belt(Sold Out) // Bag – Couch Outlet // Pumps – Schutz (Sold Out – Similar here)
Sweater Dress – H&M // Fuchsia Coat – BCBGeneration // Belt – Valentino // Ankle Boots – Sarah Flint // Bag – Salvatore Ferragamo Get $50 Off a New Pair with Code "SARAHFLINT-BASUCHI" This is an Alert I am a description. Click the edit button to change this text. <button type="button"> &times; Dismiss alert </button>
Black Cardigan – H&M // Blue Straight Leg Jeans – Levis // Blue Light Wool Coat – Mango // White Oxford Pumps – Charles & Keith // Bag – Chloe
Whether you like to stay casual or you love preppy or dressed up style, these 10 spring essentials will look great with everything in your wardrobe for spring. And you will look stylish and chic in them everyday while you stay comfortable.
This also your guide to know what to wear in spring.
Button Down Shirt – Mango // Blue Skinny Jeans – Levis // Black Sweater Vest – Free People (Sold Out – Similar here) // Loafer Mule – Sam Edelman // White Coat – Mango // Blue Tote Bag – Coach Outlet
Black Crewneck T shirt – & Other Stories // Black Leggings – Banana Republic Factory // Coatigan – Gap (Similar here) // Belt – B-Low The Belt // Loafer Mules – Tory Burch // Handbag – Louis Vuitton